All interested market participants, who are willing to become CROPEX members, are invited to submit an Application for the Membership to the email address This email address is being protected from spambots. You need JavaScript enabled to view it., thus launching the formal admission process and the signing of the Membership Agreement. Application for the Membership and other necessary documentation you can find here.
Requirements for the Membership include valid:
Energy License issued by the Croatian Energy Regulatory Agency (HERA)
Balance Responsibility Agreement with Croatian Transmission System Operator Plc. (HOPS)
Electricity Market Participation Agreement with CROATIAN ENERGY MARKET OPERATOR Ltd. (HROTE)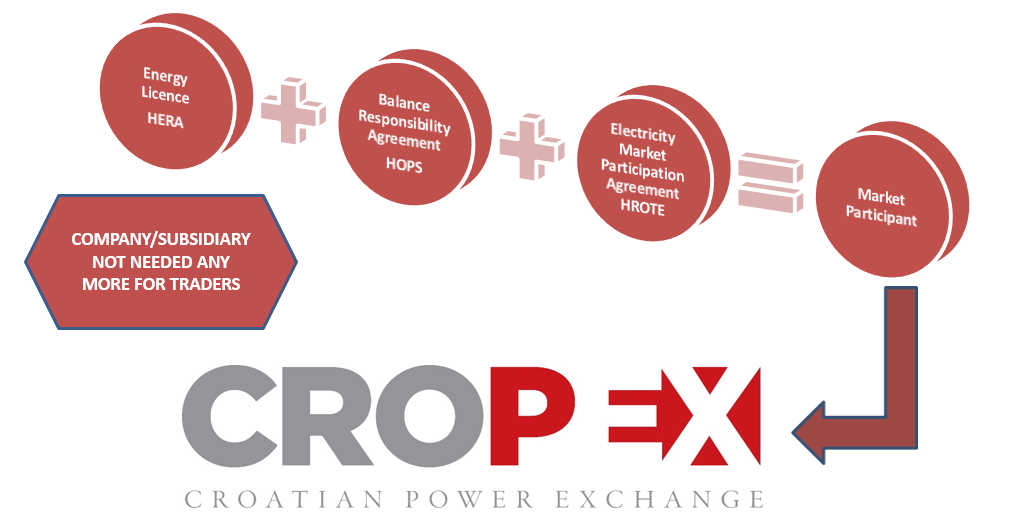 In accordance with the new rules on energy license from October 2015, traders from the EU Member States and the Energy Community countries who wish to participate in the electricity market in the Republic of Croatia can obtain the energy licence from the Croatian Energy Regulatory Agency without having to establish a new company or subsidiary in the Republic of Croatia.
Following the application for membership, a market participant will have to sign a Membership Agreement, thus gaining access to the training platform and later to the operational Croatian Day Ahead and/or Intraday Market trading platform.